by Rod Cruz, Healthcare Solutions – General Manager at AT&T
Executive summary
The AT&T IT Leader survey confirms that the global healthcare industry is committed to maximizing the potential of the intelligent network. The findings represent a positive view of the future, albeit one where misplaced strategic priorities and potential blind spots may hinder successful transitioning.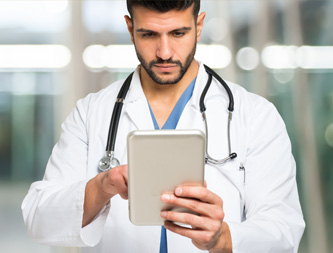 Healthcare Solutions
AT&T provides edge-to-edge technologies that help healthcare organizations orchestrate the transformation from healthcare to human care.Learn more
What the research shows:
An industry in good health. Healthcare continues to introduce and integrate new technologies, capabilities, and networking features. There is a particular focus on obtaining data from the use of IoT sensors (in wearable monitors, diagnostic devices, etc.). Pair that focus with the industry's investments in edge computing and cybersecurity, and you can see the healthcare sector is preparing for a digitized future.
Strategies require reassessment. The survey reveals industry concerns and strategic blind spots, which could threaten the transition to intelligent networking. These include low future investment levels in 5G and open architecture and confusion around computing power requirements.
SD-WAN being sidelined. While healthcare is committed to intelligent networks, there are concerns around the prioritization of the technology to deliver it: SD-WAN (Software-Defined Networking). The survey reveals that, while healthcare understands SD-WAN's benefits, it is the industry with the lowest level of investment in the networking solution. This could leave priorities, including edge computing, at risk.
"Transformation will be driven by use case first—such as wearables—and only then will healthcare think: 'We now need to rethink the way our network infrastructures work.' It will be a step-by-step approach. Overhauling the network infrastructure isn't going to happen all of a sudden." – Carl Ward, Group Technology Office – Health and Public Service, Accenture
About the research
A global online survey of 1581 senior IT roles (C-Suite and direct reports) was conducted in August 2018 on behalf of AT&T by Longitude, a Financial Times company that has world-class expertise in quantitative and qualitative research.
The analysis in this report is based on the findings from the 293 senior IT executives from the healthcare industry who took part in the research. All of the respondents have oversight of, influence on, or involvement in their organization's decisions relating to network infrastructure.
Healthcare respondents were based in 3 territories: Asia Pacific (20%), EMEA (37%), and North America (43%), and all work in large organizations that have annual revenues of USD1 billion or more.
In-depth insights were obtained from interviews conducted with the following individuals:
Section 1: Healthcare – Committed to an intelligent future
The industry is prioritizing investment in technologies that will enable the successful use of data in the future. For example, healthcare IT leaders have initiated a massive push into IoT (60%—the industry's highest investment priority in the last 12 months). This will level off to 38% on average over the next 3 years.
Investment priorities for big data and analytics were lower over the past year (51%). However, the industry intends to keep funding levels approximately the same (48%) over the next 3 years. This will ensure effective analysis of IoT-sourced data.
Healthcare will increasingly look to artificial intelligence/machine learning for assistance. The number of organizations prioritizing AI investment will almost double—from 32% in the past 12 months to 55% over the next 3 years. This represents the highest priority for the industry, outstripping both big data and analytics and cybersecurity (47%). Healthcare is also increasing its network capacity to support AI's data requirements over the next 3 years. It is most likely (along with transport) of all surveyed industries to rank this as a top investment priority for improving the network's capabilities in handling data, at 34%.

Away from core data issues, healthcare is also committing to technologies that will help secure its intelligent networks. For instance, edge computing is already part of healthcare networks (18%), but this level is expected to more than triple over the next 3 years, to 59%. Network policy and event orchestration, currently 25%, will increase to 46% in 3 years' time.
Combined, this demonstrates that healthcare is fully aware that data—and the network required to manage and utilize it—is essential to future success.

Silos threaten strategies
While effective data strategies are being created, a key problem—especially in the U.S.—is the predominance of information silos within healthcare. This is complicated by the industry's inability to share valuable, aggregated data.
"The manufacturer has data, the insurance company has data, the doctors have data, the hospitals have data," says Miriam Paramore, President of OptimizeRX Corporation, "but they only have the data relevant to them. It means it's very difficult to get a holistic picture of a patient's longitudinal health. That requires sharing data, and so what we strive for is the 'network effect.' It's figuring out what data should be shared, and when."
It's a view echoed by Accenture's Carl Ward: "In some markets, there is no binding of the different verticals within healthcare," he explains. "The challenge then becomes less about what the individual verticals can do—because they will be able to optimize what they do within their own context—but more about optimization across the entire ecosystem."
Cybersecurity
As with other industries, cybersecurity remains the primary issue for healthcare. Over the past 12 months, investment priorities in security have been at 56%. While this investment drops to 47% over the next 3 years, it remains the highest strategic business priority (47%) over the next 12 months.
This suggests an industry focused on security, but also confident that its ongoing strategy is on point. For instance, of the healthcare IT leaders who say improving cybersecurity is a strategic business priority, 75% believe their existing networks can deliver on their security needs. Only time will tell if this confidence is well placed.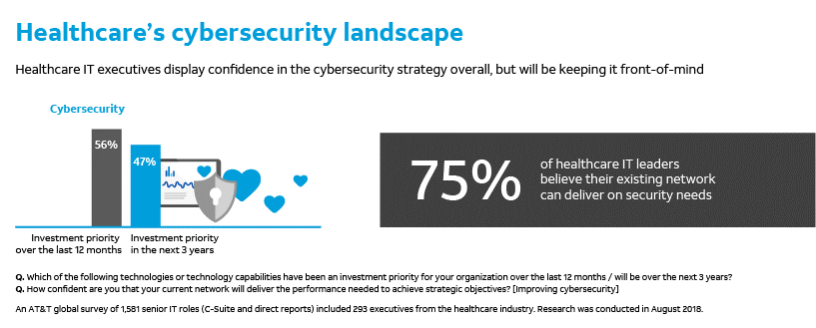 Section 2: Healthcare at risk of 'growing pains'
Despite the industry's generally positive outlook, there are several technology and network issues that could represent challenges to healthcare moving forward.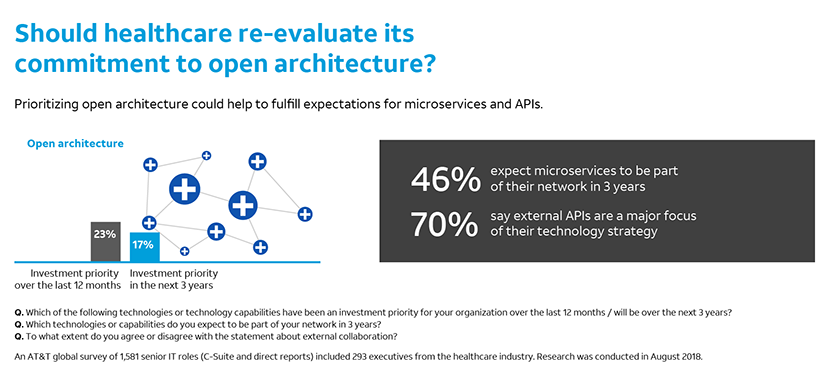 5G
In effect, 5G extends today's current software-defined networks over mobile. However, within healthcare, the technology is under-represented. In the past 12 months, prioritization of 5G for investment has been low, at 2%, as the technology remains in its infancy.
Yet, expected investment levels barely rise over the next 3 years (6%), with 79% of IT leaders stating that 5G is not a high priority. While the industry understandably remains cautious about the technology's potential, these results suggest that healthcare risks underinvesting in, and under-prioritizing, a key technology.
Network computing power needs
The survey reveals that some IT leaders are concerned about their current network's ability to optimize data effectively. Only 50% agree that their current networks can support IoT, 44% big data and analytics, and 19% AI. Moreover, 55% of IT leaders expect an increase in network computing power needs over the next 3 years. This suggests they realize transitioning to an intelligent network is inevitable.
Most concerning, though, is that nearly half of healthcare IT leaders (44%) believe there will be no change in computing power needs, despite the introduction of new technology and capabilities. This figure is higher than for comparable industries, including financial services (28%) and retail (38%).
Such a misstep should sound warning bells: "Upgrading the networks to be able to do high-speed computing in the cloud is one of the big needs that we have in our industry," says OptimizeRX's Miriam Paramore. "A lot of the technology out there is 20+ years old. So, the data is in an 'old vault' that's on a server. It's not cloud-based and it's hard to get to. This antiquated server-based technology needs to be sunsetted—and that's a huge endeavor for these multi-million-dollar healthcare businesses."
"Those who are ambitious or have plans to grow will have a greater demand for more bandwidth. That said, if you're limited to some clinics or locations, then, probably, the needs will still be the same, especially if they are prioritizing certain traffic. In general, though, I believe more computing power will be needed; AT&T alone has 48 million connected devices." – Maria Lensing, Vice President of Global Business – Healthcare Solutions, AT&T

Mismatched strategies
The survey reveals confusion over prioritization in 2 key areas:
Compliance overlook
The findings suggest that meeting data compliance and regulatory targets is a low business priority (27%). This lack of prioritization could be exacerbated by 2 further elements. First, only 58% of IT leaders are confident that their current networks will be able to meet these compliance/regulatory targets. Second, prioritization of improving regulatory reporting capabilities is at only 32% over the next 3 years. These are both low percentages for an industry where data privacy and compliance are vital.
Patients second
Healthcare's second-highest data-focused priority is improving customer experience (33%), higher than the other industries in our survey (manufacturing, retail, transportation, and financial services). This is understandable for an industry that focuses on putting patient wellbeing and satisfaction at the core of its operations. Yet this patient-centric approach is not reflected elsewhere in the survey. For instance, only 28% of healthcare organizations say that innovating or improving products and services has been a business priority over the last 12 months. Both are critical to optimizing patient care and improving customer experience in the future. This indicates a potential misalignment in healthcare's prioritization strategy.
It also represents a potential missed opportunity. For instance, AT&T Vice President of Global Business – Healthcare Solutions, Maria Lensing, is already seeing some hospitals innovating to aid patients in navigating to their appointments. This in turn is significantly reducing appointment no-show rates: "Some hospitals have their own personal mobile apps that offer patients 'way-finding'," she explains. "These use the data of where the patient is going for their appointment to make sure they actually get there on time.

Section 3: SD-WAN – Healthcare's Achilles' heel?
The survey confirms that the healthcare industry understands intelligent networks are important to its future. Eighty-one percent of IT leaders agree that the success of their digital transformation hinges on the network's transition to a more intelligent infrastructure. This is the highest percentage of all industries surveyed. 
At the heart of the planned transition is SD-WAN. IT leaders recognize that, if deployed, it will introduce a host of benefits. For example, 47% state SD-WAN will centralize network security, while 42% state it will enhance the scalability of their technology infrastructure. Finally, 38% believe SD-WAN will reduce network management costs.
Despite such benefits, though, there are potential obstacles:
Only 16% of IT leaders say that SD-WAN is part of their company's network today.
This climbs to only 34% in 3 years' time (compared to 42% for financial services and retail).
Finally, only a third of IT leaders (32%) see SD-WAN as a top investment priority over the next 3 years.
If low investment and expectation levels in SD-WAN are not addressed, healthcare's ambitious plans for leveraging edge computing, analytics, and more, could be hindered.
"It's about the volume—the weight—of data increasing hugely," explains Bradford Teaching Hospitals Cindy Fedell. "It's where you get into SD-WAN, because managing data is going to become a much bigger issue. For instance, I was looking at our data around diagnostic imaging and storage, and our predictions for 12 months were actually realized in 5 months. This is not because we're doing more—it's because what we're doing involves heavier data."

The reasons for the disconnect over SD-WAN and in other areas can be attributed to 2 main factors. First, 38% of IT leaders state they have yet to develop a clear strategy for the transition of their network to a more intelligent infrastructure. Second, 24% say there are conflicting priorities between business and IT leaders. This is particularly pertinent, as both CEOs and CFOs are shown to be involved or closely involved in the network strategy process, at 67% and 66%, respectively.
The recent AT&T Business Leader survey reveals the level of conflict is perceived to be higher by business leaders. For example, 45% say conflicting priorities between themselves and IT leaders are stalling transformation. Twenty-three percent state their IT function lacks understanding of what the 'right' infrastructure looks like. Finally, 19% state they have a vision but are facing internal resistance from the IT function.
Combined, it suggests that business and IT leaders should forge closer relationships to overcome transformation disparities. If not possible, then a third-party consultant should be used to identify and resolve any conflict or misunderstanding. Either way, healthcare should deal with misaligned priorities now, or risk divisions widening and beginning to impact patient care.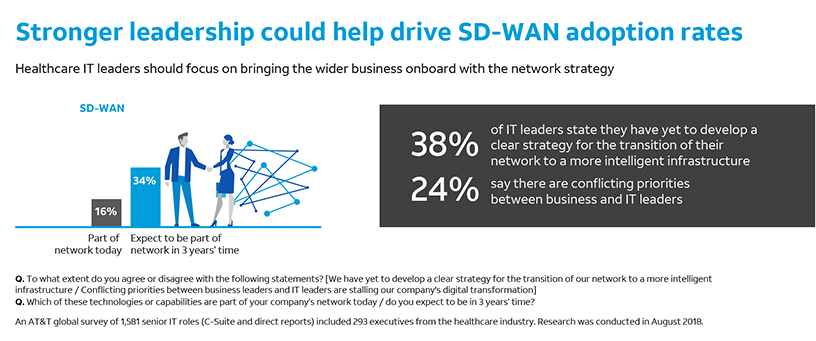 Conclusion
The drive to adopt an intelligent network is strong within healthcare. The industry is willing to embrace its huge potential for transformation. If successful, this digitization will revolutionize management, operations and, most importantly, patient care, all while busting silos between different industry verticals. However, this potential can only be realized if healthcare addresses the issues uncovered by the survey:
Protect existing priorities. Safeguard priorities that are proven to be effective if and when addressing emerging issues within your intelligent network plan.
Revisit overlooked technologies. Reconsider the roles of key technologies including 5G and open architecture within your organization and analyze whether their significance is being under-prioritized.
Deal with computing power dissonance. Re-evaluate your computing power needs now or risk your network being incapable of supporting your planned capabilities in the future.
Reassess SD-WAN. Revisit your strategy for SD-WAN to assess whether greater strategic and investment prioritization should be given to the technology.
Align interests. Bring IT and business leaders into closer alignment with one another; a failure to do so will undermine your intelligent network planning—and put patients at risk.
This report is part of a research series called The Intelligent Business.